Kortetermijndenken, religie en onzekerheidstolerantie
Breder kijken en denken in een pandemie
Samenvatting
A good story, that is what citizens need to be able to (continue to) sustain the 'together' of 'Only together do we get corona under control'. In this article, I would first like to explore the significance of the focus on infection rates. Using Anne-Mei The's research on communication between lung cancer patients and their physicians, I interpret this focus as a collusion based on a technical approach that narrows time to the short term. The long term - i.e., the story of meanings, values and quality of life but equally of failure, loss and tragedy - is le.ft out of the picture. That long term story is about how we live together, near and far, now and in the future. It is about responsibility for each other, but also about failure. With Roman Krznaric, I introduce the question of whether we are good ancestors, whether we include this question in that broader story. Memories are very important. Without a past no future. It turns out that religion is in principle a powerful human phenomenon that can offer a transcendent story and stimulate broad solidarity. The Christian concept of original sin that acknowledges failure, simultaneously opens the view of human responsibility for every other living being and for the world as a whole. In this framework, the uncertainty tolerance can grow, so that the narrowing of gaze and consciousness to the short term, to mere technical measures, can be avoided. The purpose of this contribution is not to offer concrete policy alternatives for dealing with the corona crisis, nor to outline that broader perspective and narrative. Its purpose is to use various conceptual frameworks to answer the question: Why is it that both government and citizens are so focused on the infection rates and curves, what can help to break through this limited perspective, and to what extent can religion play a role in this? So how can government and citizens think more broadly in the pandemic?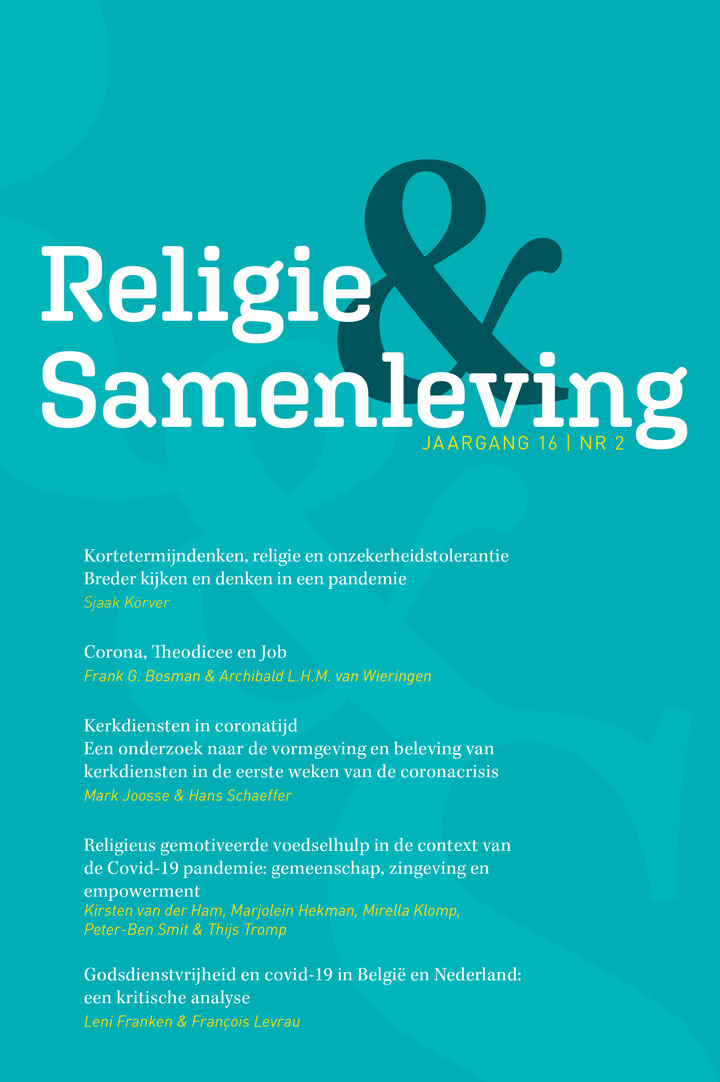 Downloads
Citeerhulp
Korver, S. (2021). Kortetermijndenken, religie en onzekerheidstolerantie: Breder kijken en denken in een pandemie. Religie &Amp; Samenleving, 16(2), 91–114. https://doi.org/10.54195/RS.11466
Licentie
Dit werk wordt verdeeld onder een Naamsvermelding 4.0 Internationaal licentie.
Auteurs die in dit tijdschrift publiceren gaan akkoord met de volgende voorwaarden:
a) Auteurs behouden het auteursrecht en verlenen het tijdschrift het recht van eerste publicatie. De publicatie wordt gepubliceerd onder de licentie Creative Commons Naamsvermelding 4.0 Internationaal (CC BY 4.0), die anderen toestaat om het werk te delen. Bij het delen van het werk moet wel het auteurschap van het werk en de eerste publicatie in dit tijdschrift worden vermeld.
b) Auteurs kunnen afzonderlijke, aanvullende contractuele afspraken maken voor de niet-exclusieve verspreiding van de door het tijdschrift gepubliceerde versie van het werk (bijvoorbeeld door het werk in een institutionele repository te plaatsen of het in een boek te publiceren), met vermelding van de oorspronkelijke publicatie in dit tijdschrift.
c) Auteurs mogen hun werk online plaatsen (bijvoorbeeld in institutionele repositories of op hun website) voorafgaand aan en tijdens de indieningsprocedure.
Auteurs worden uitdrukkelijk aangemoedigd om hun gepubliceerde artikel in hun institutionele archief te deponeren.
Received 2022-01-12
Published 2021-06-01